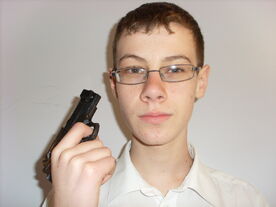 Thomas Wilson (commonly known as Tommy) lives with his family in Workington. He attends St. Benedicts sixth form. He has a keen interest in the Call Of Duty franchise leading to his casting as Mr. Eastwood in 'Green Couture' . He is set to portray Lt. Shaw in 'Epicon' out in 2011. He was the last member to join the 4 S.A.D.S (hence the name change from 3 Straights and Danny to 4 S.A.D.S).
Early Life
Edit
Tommy was a perfect spin bowler in cricket, although he was never picked for his local team, he couldn't understand this as he was "awesome". He was also the best line blocker at his scholl but once again, to his suprise, was not picked for the team.
Green Couture
Edit
Tommy starred in Green couture as the lethal but terrible assassin, Mr. Eastwood. He was the first actor to have a main role in a 4 S.A.D.S film that was not part of the original group. He filmed his scenes over the course of two weeks, and "was a joy to work with" says Andrew Hymers and Jake Langley. "His outstanding abillity and usefulness to the offset work, we quickly realised that he should be a member of the 4 S.A.D.S".
Community content is available under
CC-BY-SA
unless otherwise noted.